14 December, 2018
"Hate speech" is just an attempt to limit free speech
Free speech must encompass so-called 'hate speech' or it is not free speech at all – it is restricted, proscribed, regulated speech. Likewise, academic freedom that rules out 'incendiary language' and 'the disparagement of any person or persons based on religion, nationality, race, gender, sexual orientation or identity' is not academic freedom. It is permission to utter only banal and already-accepted platitudes.
Increasingly, the concept of 'hate speech' is being used to draw limits around what can and cannot be said. We need to be clear that hate speech is an invented, subjective and arbitrary concept. There are no objective measures of 'hatefulness'. What counts as 'hate speech' is defined by the offended – or, more often, those quick to perceive offence on behalf of others – and enshrined by those in authority. The starting point for all this is that some people are more vulnerable than others and in need of special protections; their identity or beliefs need to be placed beyond criticism.
Over recent years, a pattern of censoring views deemed beyond the pale has become established. Initial offence-taking is swiftly followed by public declarations of outrage. The selective highlighting of 'inflammatory' words and phrases is accompanied by a social-media trial and calls for the guilty party to be removed from public life. The success of this formula has meant it has spread from campus into mainstream society, and from the political left to all shades of opinion.
For too long, campus and academic activists have been at the forefront of calling for views they disagree with to be censored rather than challenged. It is tempting to sit back and enjoy the times when this comes back to bite them. But a proper defence of free speech requires challenging the very notion of hate speech and insisting that all views are heard, no matter how contemptible.
SOURCE
An Aussie bargain shop chain pulls 'disgusting' figurines from shelves after social media storm
Not sure what is wrong about this. The figurines actually look better than most real-life Aborigines today -- who are very prone to obesity etc
An Australian bargain shop chain has been forced to apologise and pull a bizarre product from its shelves following a social media backlash.
A picture of the figurines depicting scantily clad indigenous Australians carrying boomerangs and didgeridoos was uploaded onto Twitter over the weekend.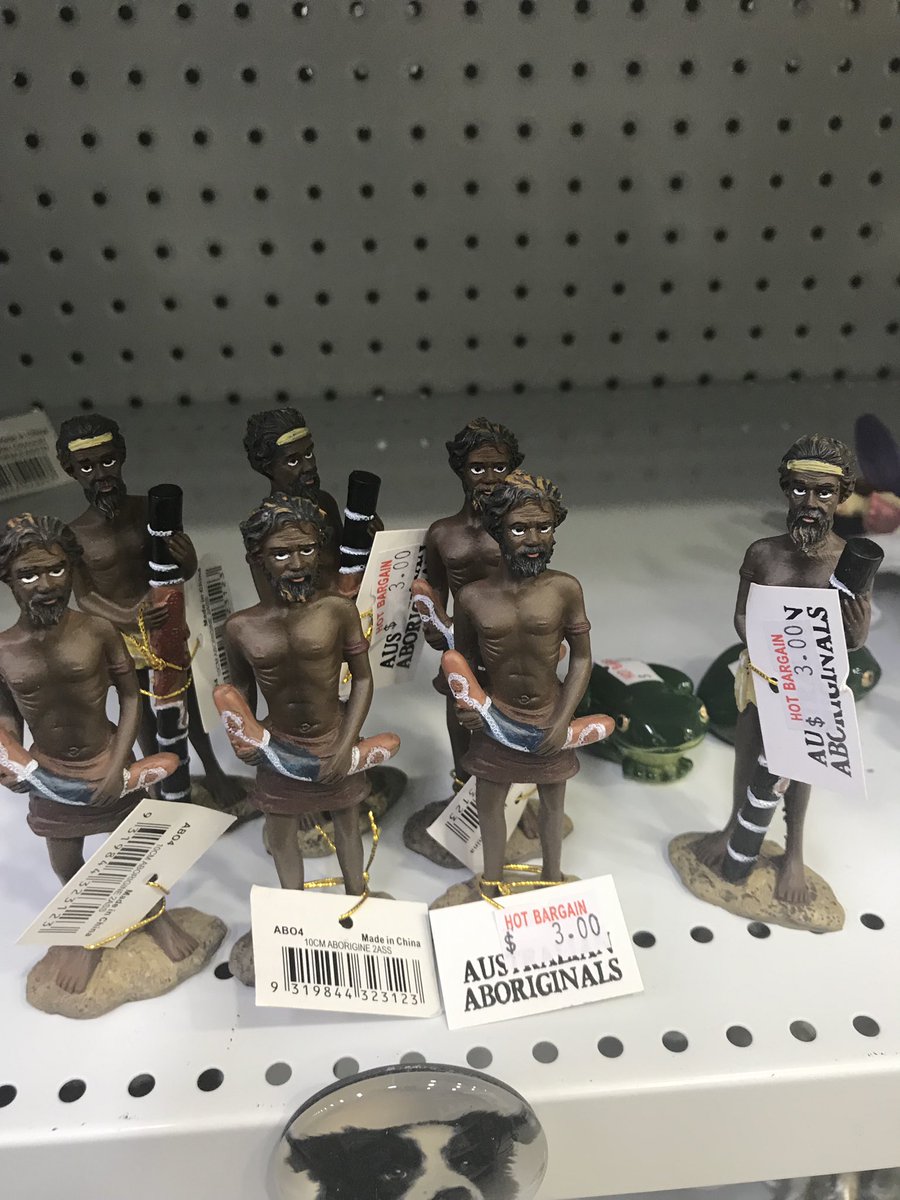 It was uploaded by Luke Pearson, founder and CEO of IndigenousX — an indigenous owned and run independent online media platform.
"The perfect gift for white ppl who 'love Aboriginal culture' but would rather not interact with us in real life," he wrote alongside an image of the "Australian Aboriginal" figurines.
The China-made trinkets — which were being sold for just $3 each — were spotted at a Hot Bargain shop in the Lake Haven Shopping Centre on NSW's Central Coast.
It's understood similar figurines are being sold at other Aussie bargain shops and Mr Pearson claimed they were as "common as golliwogs in Australia" on Twitter.
Outraged commenters piled in on criticism of the figurines and the shop's decision to stock them. "Holy sh*t that's racist, vile and offensive," wrote one commenter. "I can't believe people still sell these," wrote another.
"That's even more offensive than all those cheap, Indonesian knock-offs being sold as 'authentic' indigenous art in the gift shops," added a third.
The bargain chain has now said it will immediately remove the product from its shelves following the outcry.
SOURCE
13 December, 2018
This Teacher Was Fired for 'Misgendering' a Student. Who Could Be Next?
Last week, a Virginia school board voted unanimously to fire a teacher after he refused to comply with administrators' orders to use a female student's preferred masculine pronouns. The student "transitioned" over the summer and began identifying as a man.
This latest casualty in the culture wars raises the obvious question: Who could be next?
Peter Vlaming went to great lengths to accommodate the student without violating his Christian faith. He used the student's new name to avoid upsetting the student, but refrained from using pronouns altogether in the student's presence to avoid speaking against his belief that God created human beings male and female.
"I'm happy to avoid female pronouns not to offend because I'm not here to provoke," Vlaming told the press, "but I can't refer to a female as a male, and a male as a female in good conscience and faith."
However, this was not enough to satisfy the student's family or the board.
"I can't think of a worse way to treat a child than what was happening," said the principal, who had ordered the teacher to use the student's preferred pronouns against his beliefs.
This incident does not bode well for future conflicts over transgender policies. As more of these conflicts arise in schools, hospitals, shelters, and businesses, America must allow its citizens to think about and debate these issues freely.
No one should fear losing their job because they believe that men and women are biological realities that are not interchangeable.
Unfortunately, government coercion as a weapon of the culture wars is now spreading across the professions.
First, there were cases in the wedding industry where the government tried to force people to violate their belief that marriage is between a man and a woman—florists, bakers, photographers, wedding venues, and so forth.
Then those lawsuits spread to even more industries—videography, web design, calligraphy studios, and public service.
Now, the government is beginning to penalize people who hold that there are two biological sexes. For example, a Catholic hospital was sued for refusing to remove a biological female's healthy uterus to pursue gender transition. Meanwhile, two parents lost custody of their teenage daughter for refusing to allow their child to take testosterone and identify as a boy.
This could be just the beginning. House Democratic Leader Nancy Pelosi recently announced that the Equality Act will be a top Democratic priority in 2019. The bill would impose controversial transgender policies on the nation by elevating "gender identity" to protected status in federal anti-discrimination law.
This would have drastic implications for average Americans. It would open up sex-specific facilities like bathrooms, locker rooms, and shelters to members of the opposite biological sex. It would allow biological males to compete on women's sports teams. It would force health care providers and insurance companies to provide and pay for radical transgender therapies.
In brief, stories like Vlaming's would become the new normal.
This kind of sweeping, coercive policy is not the answer to current debates about gender identity. Americans must remain free to discuss these policies in a respectful manner—which is why the firing of Vlaming is so disturbing. Instead of allowing the parties involved to find a workable compromise, the school board not only picked sides, it silenced one side.
This is an extremely disturbing precedent.
Sadly, while Vlaming was willing to work to make the student a cherished member of the community, the school board was not willing to work to make the teacher a cherished member as well.
Instead of pursuing a solution that would respect everyone—teacher and student alike—the school board refused to respect Vlaming's beliefs and terminated him.
Speaking and acting according to one's conscience should not be a fireable offense. When authorities try to force people to act against their beliefs, it is a blatant abuse of power—one that can easily backfire when political power changes hands. That is why everyone should be concerned about these emerging challenges to freedom of conscience.
SOURCE
Head of communications for Grindr resigns after the company's president says he believes marriage is between man and woman
An executive for Grindr - the largest queer dating app in the world - has resigned just weeks after the company's president said marriage is between a man and woman.
Landon Rafe Zumwalt, the head of communications for Grindr, made the announcement in an open letter shared on Medium.
'As an out and proud gay man madly in love with a man I don't deserve, I refused to compromise my own values or professional integrity to defend a statement that goes against everything I am and everything I believe,' Zumwalt wrote.
'While that resulted in my time at Grindr being cut short, I have absolutely no regrets. And neither should you.'
Zumwalt was referring to a Facebook post shared last month by the company's president, Scott Chen.
In the post, Chen said: 'There are people who believe that marriage is a holy matrimony between a man and a woman. I agree but that's none of our business.
'There are also people who believe that the purpose of marriage is to create children that carry their DNA. That's also none of our business,' Chen added.
Chen also wrote in the now-deleted post that 'there are people that are simply different from you, who desperately want to get married. They have their own reasons'.
According to an article by INTO, Chen had shared the post on his personal Facebook page to call out Cher Wang, the president and CEO of HTC, whose non-profits backed anti-LGBTQ groups in the US that organized to influence Taiwan's referendum on same-sex marriage.
Chen wrote that marriage is a 'personal thing' and encouraged the rich to the poor or those who are suffering from war'.
'Why spend all that money to stop people who love each other from getting married? Aren't there more important stuff in life?' he asked in the post.
SOURCE
12 December, 2018
Dean Martin's Daughter Defends 'Baby, it's Cold Outside'
Radio stations from Cleveland, Ohio to Madison, Wisconsin have stopped playing "Baby, it's Cold Outside" amid a national movement against the song's lyrics. The Christmas song, famously sung by Dean Martin and written for the film Neptune's Daughter, is no longer the popular tune it once was
The lyrics that give critics particular pause are the lines:
"So really I'd better scurry (beautiful please don't hurry).
But maybe just a half a drink more (put some records on while I pour).
The neighbors might think (baby, it's bad out there).
Say what's in this drink? (no cabs to be had out there)."
Cleveland's Star 102 radio station started the trend of taking the song off their Christmas playlist after receiving caller complaints. "Now, I do realize that when the song was written in 1944, it was a different time, but now while reading it, it seems very manipulative and wrong," radio host Glenn Anderson wrote in a blog post.
Dean Martin's daughter Deana Martin is shocked by how people are suddenly treating her dad's classic song. She said critics have got it all wrong.
"There's nothing bad about that song," Martin said adamantly on "Fox & Friends" Monday. "And it just breaks my heart and I know my dad would be going insane right now…He would say, what's the matter with you? You know, get over it. It's just a fun song.
Martin continued to explain that the song's original intent is not nearly so sinister as its critics are suggesting. "It's a sweet, flirty, fun, holiday song," she said, adding that the current controversy is "madness."
Martin said she has no plans to change the lyrics. "I don't want to. I don't want to change the lyrics. Where she says, you know, 'hey, what's in this drink?' I don't think she's talking about some pill being put in that drink. You know, like, 'is this punch? You know, what's in this drink? Is it vodka?' You know, I mean it was, it was nice. It's just breaking my heart that people would turn that around."
SOURCE
Whining New Zeland woman didn't like being called a Kiwi
A New Zealand woman who accused her former boss of racial discrimination says it's ruined her life.
Julie Savage, a former supervisor at the Vili's Cakes kitchen in Adelaide, said she was 'disrespected' when her co-workers repeatedly called her a 'Kiwi' instead of using her name.
But her complaint, which was heard before the South Australian Employment Tribunal, was dismissed as a 'perceived lack of respect'.
Julie Savage, a former supervisor at the Vili's Cakes kitchen in Adelaide , said she was 'disrespected' when her co-workers repeatedly called her a 'Kiwi' instead of using her name
+4
Julie Savage, a former supervisor at the Vili's Cakes kitchen in Adelaide , said she was 'disrespected' when her co-workers repeatedly called her a 'Kiwi' instead of using her name
Ms Savage, who was referred to as 'Kiwi' by bakery owner Vili Milisits, said the colloquial term was used in a derogatory way, NZ Herald reported.
'I had a Kiwi flag on my desk, I am proud. But that wasn't my name, that's the issue. No-one called me that but him. He used it like it was my name, like ''go and do the dishes, Kiwi'', or ''wipe the table, Kiwi''.'
Ms Savage said her boss used the name to order her to do jobs, rather than use the word as a term of endearment.
'He used that like it was my name,' she said, claiming it caused her to suffer from depression and low self-esteem.
Ms Savage and her husband and son moved from Auckland to Adelaide in 2006. She was hired the next year.
She was eventually promoted a supervisor role after working as a short order cook for a few years.
While she would take some New Zealand jokes on the chin, Ms Savage said the persistent use of 'Kiwi' wore her down.
A year-and-a-half after laying her official complaint in 2016, Ms Savage lost her racial discrimination case.
On Sunday December 2, the claim was dismissed by Tribunal Judge Leonie Farrell, who said: 'Calling a New Zealander a Kiwi is not of itself offensive. Kiwi is not an insult.'
The bakery's owner admitted he had called Ms Savage the moniker, but argued that it was a fond nickname and never intended to be demeaning, Adelaide Now reported.
Judge Farrell ultimately agreed, throwing out any accusations of discrimination.
'It was pretty satisfying when I saw what the commissioner said ­– I'm happy with that,' Mr Milistits said.
He thanked the tribunal for finding in his favour, but said the 18-month-long trial was 'slow'.
Ms Savage who is a 'a proud Kiwi' said she's lost her self-esteem and suffers from depression.
She said she was disappointed with the tribunal's decision but wouldn't be able to afford an appeal.
The case wasn't about money but rather about receiving an apology, Ms Savage said.
'I feel this case is a moral victory for me against Vili Milisits and that hopefully he will no longer call people that he employs by another name other than their given name.'
SOURCE
11 December, 2018
Truce achieved in Berkeley free speech fight
A truce of sorts was reached last week in the latest battle over free speech at UC Berkeley. Rare is the lawsuit settlement in which each side can credibly claim a level of vindication. This is one.
Young America's Foundation, the conservative nonprofit that bankrolled the lawsuit against the university, hailed the settlement as a "landmark victory for free expression." Its statement triumphantly declared that UC Berkeley could "no longer wantonly treat conservative students as second-class members of its community while ignoring the guaranteed protections of the First Amendment."
Conversely, a spokesman for the university said the settlement essentially validates its existing policies on security fees and time-and-place restrictions that apply to all campus speakers, regardless of ideology. Spokesman Dan Mogulof also emphasized that a federal court had upheld the constitutionality of those policies seven months ago.
Here is the welcome bottom line: Conservatives are guaranteed a platform at the university of the 1960s Free Speech Movement. The demonstrators who have tried to silence high-profile appearances by right-wing provocateurs such as Milo Yiannopoulos, Ben Shapiro and Ann Coulter will not be able to stop future appearances by threatening havoc.
And, just as important: The conservatives who have tried to claim censorship and martyrdom when they encounter the conditions imposed on all other groups have lost their talking point. The Young America's Foundation agreed to this deal and will be paid $70,000 of its attorney fees.
SOURCE
Australia: How it could be ILLEGAL to say 'he' or 'she': Failing to use transgender terms could land Australians in court under proposed laws
Using the pronouns 'he' and 'she' could land Australians before the courts under Tasmania's controversial transgender rights reforms, legal experts have warned.
Landmark reforms - put forward by the Labor opposition, the Greens and slammed by Scott Morrison as 'ridiculous' - could include a provision that would make it illegal for people to refuse to name others by their preferred pronoun.
The proposed laws would allow parents in Tasmania to decide whether their child's gender is recorded on birth certificates - and enable people aged 16 or older to legally change their gender.
The bill passed Tasmania's lower house last month and must now pass the state's 15-member upper house - nine of whom are independents - to become law.
Dr Greg Walsh from the University of Notre Dame Australia said the reforms were largely 'admirable', but condemned dictating how people use pronouns as 'completely unacceptable'.
'The Tasmanian parliament's proposed changes to its anti-discrimination legislation could make it illegal for a person to not accept a transgender person's gender identity,' Dr Walsh told The Australian.
'Although it is admirable that parliamentarians want to ensure those who are transgender are ­respected, the attempt to use state power to force individuals to use language that contradicts their deeply held beliefs is completely unacceptable.'
Conservative ­activist group Advance Australia described the proposed changes as a 'slippery slope', 'compelled speech', and asked: 'What's next?'
'If a trans person said to me, ''I would prefer it if you called me or address me by X'', out of respect, you would do it. But the government has no place telling you that you must say that,' the organisation's national ­director, Gerard Benedet, told the paper.
The changes were last month passed by the casting vote of Tasmania's Liberal Speaker Sue Hickey, who voted against her party and with Labor and the Greens.
Liberal Attorney-General Elise Archer believes the amendments are deeply flawed.
'This amended bill contains legally untested, unconsulted and highly problematic changes that we could not support,' she said in a statement last month.
Transforming Tasmania, a transgender and gender-diverse rights group, has lauded the proposed changes, as have Labor and the Greens.
'These changes will make people, who we should all care about, feel happier, safer and more included,' state Greens leader Cassy O'Connor told parliament.
Prime Minister Scott Morrison previously criticised the debate over the removal of gender markers from passports and birth certificates.
'A Liberal national government will never remove gender from birth certificates, licenses and passports - who are Labor kidding? Get real,' Morrison wrote on Twitter.
'This is the problem with Labor, obsessed with nonsense like removing gender from birth certificates rather than lower electricity prices, reducing tax for hard-working families and small businesses.'
Campaigners condemned Morrison's remarks as an 'outdated' and a 'totally inappropriate' attack against the LGBT+ community.
'Yet again, we see a destructive statement from someone in a position of prominence and influence,' Sally Goldner, a spokeswoman for Transgender Victoria, told the Thomson Reuters Foundation.
'To attempt to link the words transgender and nonsense is vilification and totally inappropriate.'
In September, the prime minister drew widespread criticism after commenting on social media that schools do not need 'gender whisperers' in response to a report that teachers are being trained to identify transgender children.
SOURCE
10 December, 2018
Calif. University 'Whiteness' Panel Claims 'Veggie Tales' Is Racist
Last week, a two-hour "Whiteness Forum" held by students at Cal State San Marcos added the children's Christian program "Veggie Tales" to the list of forbidden "racist" media. I fondly recollect waltzing with potatoes up and down the produce aisle in my childhood years, and can report with certainty that evidence for this claim is just as hard to find as a Cebu.
According to The College Fix, a female student at the "Whiteness Forum" argued that "Veggie Tales" is racist because the villains are vegetables of color. "When kids see the good white character triumph over the bad person of color character they are taught that white is right and minorities are the source of evil," the project stated.
As The College Fix's Drew Van Voorhis explained, the female student argued that "the accents of the evil characters tend to sound ethnic, such as Latino, while the good characters sound white."
For those unfamiliar with the children's program, "Veggie Tales" is a kid's cartoon show featuring vegetables and often portraying biblical allegories. The main characters are Bob the Tomato — certainly a "vegetable of color," namely the color red — and Larry the Cucumber. Contrary to protestations of racism, the show even has a blatantly anti-racist song.
Eric Metaxas, a bestselling author and former "Veggie Tales" writer and narrator, offered a playful yet profound comment to PJ Media's request for comment.
"All vegetables are part of one race, even though they are of many colors," Metaxas said. "They are all descended from the same parents — the Adam and Eve of vegetables, who foolishly ate a forbidden fruit (irony?) and screwed everything up for all vegetables descended from them. At least I'm pretty sure that's the story."
Christianity teaches that all people — regardless of race — were created in God's image, have sinned, and are in need of the saving grace of Jesus Christ. "Veggie Tales" has presented the same message, over and over again, and if there was a latent racist message, Metaxas would know about it.
The villains do often have silly accents, often for purposes of humor.
Perhaps the most memorable of these silly accents has nothing to do with race. In "Josh and the Big Wall," the allegory about Joshua's capture of the city of Jericho, the villains are a pair of particularly stuck-up peas ... with French accents. Is this racist? Against white Europeans?
SOURCE
An "In God We Trust" sign is causing a serious uproar in one town
It's found on American currency. It can be seen in one Missouri town's government chambers. And all it's done is cause heated debate.
A sign bearing the words "In God We Trust" in the Wentzville city government chambers has led to an intense divide. As explained by the St. Louis Post-Dispatch, the fight over the sign became worse when neighboring Maryland Heights resident Sally Hunt was escorted by two police officers out of a city council meeting at the direction of Mayor Nick Guccione. Hunt is opposed to the sign and had come to the meeting to speak against its display. When she ran out of time, Guccione made her leave.
According to KMOV, Guccione said he had to stand by his decision to remove Hunt from the meeting the way he did.
"Maybe in hindsight, I should have given a warning to sit down, but you know what, I make a decision, and I have to stand by it," he said.
While the sign has overwhelming support in the town, several residents expressed displeasure either with the sign or with the way Hunt was removed from the meeting.
The divided opinions on the sign became clear as the public comments section of the meeting began.
SOURCE
9 December, 2018
'It wouldn't say white if I was Caucasian': Asian woman claims hipster café gave her a 'racist' receipt after she ordered raisin toast
It is normal for cafe staff to identify customers in some way on the order docket. It can be by a table number and it can be by asking a name. In this case the staff member has apparently forgotten to ask a name so used a description
An Asian woman has claimed a cafe gave her a supposedly racist receipt which described her ethnicity.
Katherine Chen had ordered her raisin toast to take away from a café in Sydney's trendy Surry Hills but was surprised when she saw her receipt.
While some cafes use the customer's name to identify whose order it is, this café chose to write the woman's ethnicity as her identifier instead.
The word 'Asian' was written in capital letters above her raisin toast order.
SOURCE
'Bringing home the bacon' offensive to vegans
Has vegan activism gone too far?
Common phrases like "bring home the bacon" and "put all your eggs in one basket" have been deemed offensive to vegans and vegetarians, who want them replaced with animal-friendly alternatives like "bring home the bagels" and "put all your berries in one bowl".
Instead of "kill two birds with one stone" we should say "feed two birds with one scone". "Take the bull by the horns" should become "take the flower by the thorns". No longer should we "beat a dead horse" but instead "feed a fed horse". And rather than "let the cat out of the bag", we should simply "spill the beans".
According to one academic, as increased awareness of vegan issues filters through society, meat-based metaphors may end up being ditched from the language altogether.
"If veganism forces us to confront the realities of food's origins, then this increased awareness will undoubtedly be reflected in our language and our literature," Swansea University researcher Shareena Hamzah wrote in The Conversation.
According to Dr Hamzah, meat is "more than just a form of sustenance, it is the very king of all foods".
"Historically, the resources required to obtain meat meant it was mainly the preserve of the upper classes, while the peasantry subsisted on a mostly vegetarian diet," she writes.
"As a result, the consumption of meat was associated with dominant power structures in society, its absence from the plate indicating disadvantaged groups, such as women and the poor. To control the supply of meat was to control the people."
Dr Hamzah, whose research interests include contemporary literature, women's writing, gender and sexuality studies, equates meat to the "patriarchal mindset of the early 20th century" when "a man's right to eat the best meat is unquestioned".
"Meat is power, meat is for men," she writes.
"(In Jeanette Winterson's novel The Passion), the main female character, Villanelle, sells herself to Russian soldiers in order to have some of their scarce and valuable supply of meat. The female body is just another type of meat for these men and carnivorous desire leads to carnal pleasure."
Today, she argues, meat is "repeatedly the subject of much socially and politically charged discussion, including about how the demand for meat is contributing to climate change and environmental degradation".
"Studies have indicated the negative effects of meat-eating on the human body," she writes. "When concerns about animal welfare are added to the broth, the growth of vegetarianism and veganism threatens to dethrone meat from its position at the top of the food hierarchy."
Animal rights groups PETA has been campaigning for "animal-friendly idioms" for years. On its website, it provides helpful alternatives for teachers to "common phrases that perpetuate violence toward animals".
"While these phrases may seem harmless, they carry meaning and can send mixed signals to students about the relationship between humans and animals and can normalise abuse," the organisation says.
"The words that we use have the power to influence those around us. Teaching students to use animal-friendly language can cultivate positive relationships between all beings and help end the epidemic of youth violence toward animals."
SOURCE
5 December, 2018
'I was fired for saying Brexit is good'
Brexit is Britain leaving the EU
Andres Georgi had been earning a living as a bicycle courier for Deliveroo in Berlin. But earlier this month, he made the mistake of making smalltalk with a British customer, Redfern Jon Barrett, a writer, activist and Remainer. Georgi said that Brexit was a good thing.
After the exchange, Barrett sent a tweet complaining to Deliveroo and branding Georgi a Nazi. The accusation cost him his job. 'The Deliveroo delivery guy just went on an aggressive nationalist rant when he saw the EU flag in our hallway. We are gay immigrants who live in Berlin. Deliveroo: please don't send Nazis to our door!', read the tweet.
I caught up with Georgi after his story was reported on in Ruhrbarone, a German-language blog.
For him, the tweet came as a shock. 'I was having a great weekend doing lots of deliveries. Then I got this email from the coordinator asking whether the tweet's accusations were true', he tells me.
Georgi is 41 years old and had been working for Deliveroo for 13 months. When we meet, there is nothing visibly Nazi about him: no questionable tattoos, no big black boots, no insignias that might arouse suspicion.
From what Georgi remembers, the conversation with Barrett lasted only a few minutes. Barrett came to the door, and spoke in English. Georgi saw two flags in the hallway: a rainbow flag and an EU flag. 'Are you from England?', he asked Barrett. 'I like the rainbow flag, but not the EU flag. I think Brexit is good', he said.
Barrett asked him why, and he replied that Germany had too much influence in the EU. In other words, 'nothing nationalistic at all', Georgi says. 'I was in a good mood as I was about to meet my girlfriend and I was definitely not being unfriendly', he insists.
When I contacted Deliveroo, it told me that it had terminated Georgi's contract not because of this specific incident, but because of 'other unprofessional behaviour'. But Georgi showed me an email conversation with his Deliveroo coordinator which suggests otherwise.
The exchange focuses almost entirely on the conversation about Brexit. One email says that he had behaved irresponsibly by speaking about touchy political issues with customers. 'It was especially inappropriate to tell an obviously pro-EU Brit living in Germany that Brexit was a good thing', it reads.
Although another case was also mentioned – a female customer had complained about an unwarranted remark – it was clearly the tweet that triggered the sacking. (An accusation, however spurious, that a company employs Nazis is no small matter in Germany.)
SOURCE
Black college lacrosse player, 21, is arrested for racist N-word and swastika graffiti targeting HIMSELF and other minority students in two incidents that terrorized the campus
This happens all the time and college authorities always swallow it
A black college lacrosse player has been arrested in connection with two incidents of racist graffiti found in a dorm on the Goucher College campus in Maryland.
Fynn Ajani Arthur, a 21-year-old from Brunswick, Maine, was charged with two counts of malicious destruction of property on Thursday night in Baltimore County.
His arrest came after graffiti aimed at black and Latino students was found on the second floor of a campus dorm, one floor above where similar graffiti had been found on November 14, Goucher College administrators said in a statement.
Both incidents that shook the Towson campus involved backward swastikas and targeted specific individuals, according to the statement.
Thursday's graffiti depicted swastikas, the letters 'KKK' and appeared to include the last names of four black students, including Arthur. The previous graffiti reportedly said all 'n*****s' on campus would be killed.
Arthur was released his own recognizance after a bail review hearing on Friday, according to jail records. He has been banned from campus pending a student conduct review.
Goucher Public Safety officials worked with Baltimore County Police and the Federal Bureau of Investigation Baltimore Field Office to investigate both of graffiti incidents.
They determined that Arthur was responsible for the messages based on evidence found Thursday, police say.
Goucher vice president and dean Bryan Coker condemned the racist incidents during a Friday press conference, according to the Baltimore Sun. 'These acts of hate have consumed our community and we feel strongly that the suspect should be prosecuted with the strongest charges, which reflect the seriousness of these crimes,' Coker said.
SOURCE
4 December, 2018
A "racist" Christmas tree
Apparently, all the products displayed are popular with blacks in Minneapolis. Not sure why that is offensive
Two Minneapolis police officers placed on leave after racist Christmas tree display. As a "prank," an officer decorated a tree in the north Minneapolis precinct with ornaments many called racist.
Longtime civil rights activist Ron Edwards called the Fourth Precinct tree decorations — a Newport cigarette pack, a can of Steel Reserve malt liquor, police tape, a bag of Takis and a cup from Popeyes Louisiana Kitchen — a "wink wink" to racist stereotypes.
"It's a modern-day version of a dog whistle, tainted with racism, specifically against the African-American community," Edwards said.
The photo, which first hit social media this week, created a hectic Friday at City Hall, with Frey condemning the decorations as "racist" and "despicable." The mayor vowed that those responsible "will be fired before the day is over."
Jeremiah Ellison, who is now a City Council member, was among the leaders of the 2015 precinct protests. On Friday, Ellison was at a loss for words to describe his reaction to the photo of the tree.
"Man, every way I could put it would understate it," said Ellison. "It's disappointing, but also I think deeply disturbing to wake up to something like that. Not just for myself, but for my neighbors."
SOURCE
Arizona Lawmaker Says Black People 'Don't Blend In'
It seems to me that what he said was frank and truthful but I guess that is no longer allowed
An Arizona lawmaker known for his past racist remarks continues to remind everyone he is still a racist.
Republican State House Rep. David Stringer was captured on audio calling non-native English speaking students a "burden," saying black people "don't blend in" and lamenting a supposed "white flight" in more diverse areas of the country.
The audio, obtained by the Phoenix New Times, was of Stringer speaking with Arizona State University students following a lecture. After telling a student that "diversity in our country is relatively new," ASU sophomore Stephen Chmura challenged Stringer, saying there was early immigration from places like Ireland and Italy.
"They were all European," Stringer responded in the audio. "So after their second or third generation, everybody looks the same. Everybody talks the same. That's not the case with African-Americans and other racial groups because they don't melt in. They don't blend in. They always look different."
SOURCE
3 December, 2018
'Apu arrives': Argentine TV news show uses image of the Asian shopkeeper from The Simpsons in a report about the Indian Prime Minister flying in for the G20 summit in Argentina
Argenties are half and half Spanish and Italian and this sounds verry much like an Italian sense of humor -- as with Silvio Berlusconi. Narendra Modi is however a very dignified and constructive man who does not at all deserve this
An Argentine TV channel used an image of Asian shopkeeper Apu from The Simpsons as the Indian prime minister Narendra Modi flew in for the G20 summit.
Cronica – known for its tasteless quips – wrote the headline 'Apu arrives' combined with an image of the character and music from India-based movie Slumdog Millionaire.
The Simpsons shopkeeper, voiced by a white actor who puts on a heavy Indian accent, has been accused of promoting outdated racial stereotypes.
Indian-American comic Hari Kondabolu, who made a documentary about Apu last year, said of Cronica's coverage: 'This couldn't be true, right?'
Cronica also flashed words from the Slumdog song across an image of Mr Modi.
The channel has already offended Turkey and Rwanda at the summit with jokes about their leaders.
SOURCE
Sarah Michelle Gellar Reminds People 'Not to Overeat' on Thanksgiving: Apologizes To Those She Offended
Actress Sarah Michelle Gellar apologized to her fans Tuesday for posting a public reminder to herself "not to overeat" on Thanksgiving, saying that she's "terribly sorry" if she fat-shamed anyone.
"I'm just going to pin these up all over my house as a reminder not to overeat on Thursday #thanksgivingprep," Sarah Michelle Gellar initially wrote in an Instagram caption, along with old photos of herself.
The post's caption offended many of her followers, some of whom accused the actress of promoting fat-shaming and unhealthy eating disorders. One user said that Gellar's caption was "very dangerous" and included "insensitive wording."
The 41-year-old immediately buckled to the social media campaign against her, saying, "It's come to my attention that some people think I was 'fat shaming' with this post. That could not be further from my intentions."
"I love Thanksgiving and unfortunately my eyes are often bigger than my stomach, and I tend to eat so much I make myself sick. This was a joking reminder to myself not to do that," she continued. "I'm terribly sorry that people were offended by my attempt at humor. Any one that knows me, knows I would never intentionally 'shame' any one on any basis. I am a champion of all people."
SOURCE
2 December, 2018
White Leftists Dumb Down Language for Minorities
A recently released study conducted by two researchers from Yale and Princeton Universities found that white Democrat politicians dumb down their speech when addressing minorities — specifically blacks. On the other hand, the study found no language change when white Republicans spoke to minorities. Study authors Cydney Dupree and Susan Fiske were surprised by the results, noting, "It was really surprising to see that for nearly three decades, Democratic presidential candidates have been engaging in this predicted behavior."
The researchers further studied the speech of white liberals and conservatives when addressing minority individuals. Again, the researchers found that white liberals engage in a "competence downshift" in their language, whereas white conservatives did not. Dupree noted the uncomfortable irony, stating, "It was kind of an unpleasant surprise to see this subtle but persistent effect. Even if it's ultimately well-intentioned, it could be seen as patronizing." It most certainly could.
Brandon Morse of RedState observed, "We often hear from social justice adherents that we carry an implicit bias toward people of other races, and then immediately point to anyone other than themselves. Now we see why. On average, the white left is guilty of believing minority individuals are of lower intelligence than they are and dumb down their speech in order to feel like they're being kinder to them by doing so."
SOURCE
CNN Fires Contributor Marc Lamont Hill Following His Outrageous Comments About Israel
CNN fired contributor Marc Lamont Hill after public outrage followed upon incendiary comments he made about the country of Israel.
Both CNN and Hill were deluged with criticism after comments Hill made that many saw as advocating for the destruction of Israel in favor of Palestinian land claims.
"We have an opportunity to not just offer solidarity in words but to commit to political action," Hill said in the speech, "grass-roots action, local action and international action that will give us what justice requires and that is a free Palestine from the river to the sea."
Much of the criticism came from his use of the phrase "from the river to the sea," which is used by extremist groups to advocate for the erasure completely of the Israeli state and replacement with a Palestinian nation.
Hill denied that his use of the phrase was in support of the destruction of Israel, and said that he was merely favoring more freedom for Palestinians.
SOURCE